All Ornamental urns
Losing someone you love is never easy; however, a good cremation funeral service can give comfort at a time of great sorrow by bringing family and friends together to express and share grief, to remember the person who has died, and to celebrate the life they have lived.
We can provide a wide range of ornamental urns. Again, through experience and feedback, we have selected a couple of ornamental Urns that we believe will offer the same quality and level of service as ourselves.
Wooden Cremation Urns
Our wooden urns for ashes are hand carved from hardwoods, they are thoughtfully designed, tactile and stylish.
As each urn is a natural product, variations in the grain and colour will occur as no two urns are the same. Each of our wooden urns is as unique as your loved one.
Most of the wooden urns from bay tree funerals are suitable for a personalised engraved plaque – simply fill in the form which can be found on the individual wooden urns pages with your desired wording.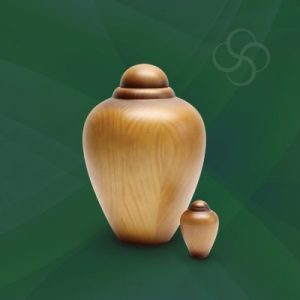 Ceramic Cremation Urns
After deciding to keep your loved ones ashes at home, you may want to choose something more pleasing than a standard cremation urn. Ceramic urns are some of the most popular and traditional forms of urns for ashes; at Bay Tree Funerals we have a large choice of ceramic ashes urns ranging from stunning classical styles to those with a more contemporary shape and decoration.
Crafted using ancient techniques which have changed little over the years, these ceramic urns for ashes are thought to represent eternity. The urns for ashes each have a ceramic plinth suitable for an engraved plaque, which can be ordered at the same time as the urn.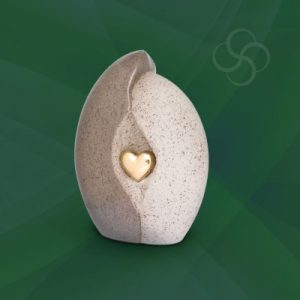 Brass Cremation Urns
The brass urns from Bay Tree Funerals are hand forged and crafted, stylish and unique, and will look stunning in any home.
The funeral urns are available in Ten elegant designs. The brass cremation urns are modern and contemporary in style, providing a sophisticated, refined twist. Thoughtfully designed and chosen to give you a striking ashes urn, they are intended to make a statement.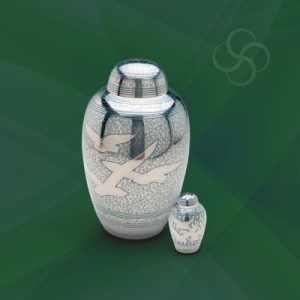 Rest of the range
Signature Urn TD 001 Teardrop Brown and Gold
Signature Urn TD 003 Teardrop Black and Silver
Signature Urn LB 003 Lovebird
Signature Urn Serenity Duo
Signature Urn KU 102L Wrapped Lily LED
Ceramic Urn KU 002
Ceramic Urn KU 004
Ceramic Urn KU 006
Ceramic Urn KU 008
Ceramic Urn KU 009
Ceramic Urn KU 102L BL
Crystal Urn GU 001
Crystal Urn GU 009
Crystal Urn GU 015
Marble Urn SU 2980
Marble Urn SU 6781
Marble Urn SU 6783
Brass Urn HU 110
Brass Urn HU 128
Brass Urn HU 135
Brass Urn HU 139 B
Brass Urn HU 140
Brass Urn HU 184
Brass Urn HU 186
Brass Urn AD 001
Brass Urn HU 404 and HU 504
Brass Urn HU 405
Glass Fibre Urn GFU 201
Glass Fibre Urn GFU 205
Glass Fibre Urn GFU 209
Glass Fibre Urn GFU 212
Glass Fibre Urn GFU 213
Aluminium Urn AU 001
Aluminium Urn AU 002
Aluminium Urn AU 003
Aluminium Urn AU 004
Aluminium Urn AU 005
Aluminium Urn AU 006
Wooden Urn WU 101
Wooden Urn WU 102
Wooden Urn WU 103
Wooden Urn WU 104
Wooden Urn WUD 001
Wooden Urn WUD 002